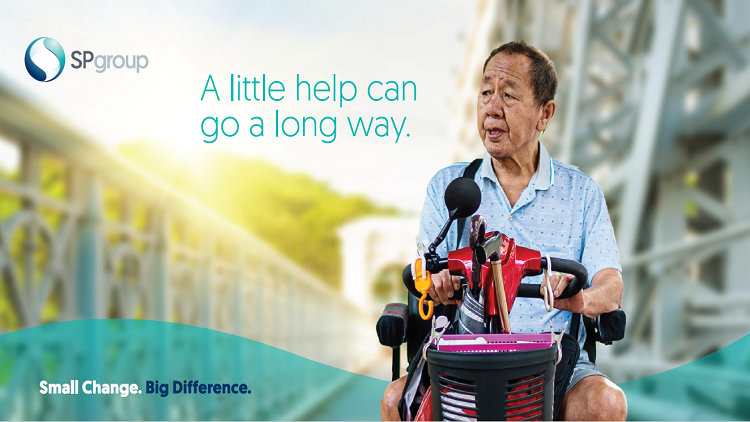 Once an active and skilful bumboat operator, the laborious years took a toll on Mr Yeo Boon Leong.
"Hello Uncle Yeo! Time for your medical check-up. Let's get ready!" exclaimed the medical escort staff at the gate.
With the help of a walking stick, Mr Yeo Boon Leong, aged 70 years hobbled from the back of his rented flat to the door. Despite his slanted gait and a slight hunch, Mr Yeo is independent by nature. The bachelor shares his frustration at his limited mobility, "I used to be the captain of my own bumboat, jumping from the pier to my boat effortlessly. But now, it is a challenge to even go out to get my favourite fried carrot cake!"
When he was 16 years old, Mr Yeo joined his uncle, owner of a second-hand bumboat, as a boating assistant at the Seah Im waterfront area. It was Mr. Yeo's first and only job. After almost a decade of honing his skills, he was able to operate his own bumboat.
After over 40 years, Mr Yeo's trade was no longer relevant. In 2007, redevelopment of the maritime area around Keppel and Telok Blangah resulted in new modes of transportation for passengers. Bumboat ferry services were replaced by bigger and more modern vessels. Mr Yeo lost his livelihood and began to live off his hard-earned savings.
While he lived as simply as he would, he did not expect to face health issues, brought on by years of physically demanding work. He was diagnosed with a spinal condition that caused sudden numbness in his limbs as well as falls, which deteriorated to sudden and temporary paralysis.
Mr Yeo's savings were quickly depleted due to hefty medical bills, causing him to feel anxious and worried. "I was extremely depressed when I could not move about. I had no one to depend on, and wondered who would care for me. I have never felt more helpless," shared Mr Yeo.
Fortunately, through the Agency for Integrated Care (AIC), Mr Yeo received his first subsidised personal mobility device – similar to a motorised wheelchair, in 2016. However, the frequent use resulted in mechanical wear and tear, and battery failure over the years. The device could no longer be used. This robbed Mr Yeo of his ability to move about in his neighbourhood. He could not afford another device, nor the cost to replace the parts to his assistive mobility device.
"Though my spine and limbs are failing, I'm grateful that I can move about for my daily needs. Now, I am no longer confined at home and can lead an independent life. It's really a priceless gift."
In July 2020, SP Group started a programme, in partnership with AIC and Community Chest, to help seniors like Mr Yeo. The SP Heartware Fund extends support to vulnerable seniors who require repair or replacement of their mobility devices. The high cost often prevents seniors from regaining their mobility, even for simple daily activities.
With the new device, Mr Yeo is able to complete his daily tasks independently and enjoy social interaction, which have also improved his mental health and wellness.
"Though my spine and limbs are failing, I'm grateful that I can move about for my daily needs. Now, I am no longer confined at home and can lead an independent life. It's really a priceless gift."
DONATE TO THE SP HEARTWARE FUND.
Sustaining support for seniors
Established in 2005, the SP Heartware Fund has been sustaining support to seniors, especially during challenging times. During these 16 years, SP Group has raised more than S$17 million for Community Chest's programmes aimed at providing vital services such as befriending, rehabilitation, counselling, and caregiver support to vulnerable seniors.
Seniors who live alone and have difficulty moving around may be at risk of social isolation which is detrimental to their mental and emotional well-being. With this in mind, SP Group is partnering the Agency for Integrated Care to enhance seniors' mobility and quality of life.
SP Group also underwrites all fund-raising costs of the SP Heartware Fund so that every dollar you donate will go fully to the social service organisations.