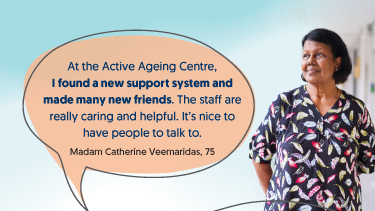 Empowering seniors to lead fulfilling lives
Help is always near
For Madam Catherine Veemaridas, 75, maintaining a sense of routine is a huge part of her life and helps create stability. It was cultivated back in her first job as an administrative specialist at the Ministry of Defence. She was part of the pioneer generation that processed Singapore's first batch of national service enlistees.
The retiree keeps herself busy with household chores. She feels productive with a daily routine, which includes attending church activities during lunch time and in the company of a group of friends there.
However, all that changed with the onset of the COVID-19 pandemic and strict safe management measures, especially for seniors. Madam Veemaridas faced a difficult transition, having to keep to herself at home. She vividly recalls an incident in the kitchen during the circuit breaker period, when she mistakenly placed frozen nuggets into a wok of hot oil, causing a flash fire. "It was so scary when the flame was coming straight at my face. Luckily, I pulled away just in time! Ever since then, I would question my decisions and was afraid to do anything."
Her condition was compounded by renovation works at her block. The loud noises triggered panic attacks. She was subsequently diagnosed with anxiety and depression. Madam Veemaridas felt isolated without a support system outside her household. It was then that she sought help from Care Corner Singapore.
Forging friendships close to home
Joining the Active Ageing Centre [AAC] at Toa Payoh in January 2022, Madam Veemaridas was cared for under Care Corner Singapore's Gerontological Counselling Unit. The unit specialises in counselling for seniors who may experience loss in various ways as they age. Eldercare-trained counsellors help them address and navigate personal, social and psychological challenges. During Madam Veemaridas' weekly counselling sessions, the counsellor provided a listening ear and encouraged her to share and not bottle up her feelings. She also picked up breathing exercises and meditation techniques which helped her manage anxiety.
With the easing of safe management measures, Madam Veemaridas could overcome isolation and start her routine again by attending activities at the AAC regularly. Weekdays now involve morning exercises at the centre, together with some 20 seniors living in the vicinity. She has also benefited from Care Corner's Frailty Management Programmes to deal with mobility issues in her leg, and received Traditional Chinese Medicine treatment at the AAC.
Slightly more than a year since joining the AAC, Madam Veemaridas was discharged from counselling and is feeling better each day. "At the Active Ageing Centre, I found a new support system and made many new friends. The staff are really caring and helpful. It's nice to have people to talk to."
A Safe Space for Seniors
Care Corner Seniors Services, a social service agency supported by Community Chest offer a range of programmes and activities that support vulnerable seniors, including the AACs. Located within neighbourhoods, seniors like Madam Veemaridas are provided with timely access to integrated health and social care. Care Corner empowers more than 5,800 seniors annually to age healthily and with dignity.
Since 2005, the SP Heartware Fund has helped bolster support for Community Chest's programmes and services for seniors, run by social service agencies such as Care Corner Singapore. The Fund enables vulnerable seniors to age with dignity and respect. Early intervention is critical for those who are socially isolated or have limited access to support networks and services.
Supported by the SP Heartware Fund, Care Corner's Services for seniors include Active Ageing Centres, care hubs and gerontological counselling and mental health support. With 20 service points across Singapore, Care Corner provides an easily accessible support system close to home, and empowers beneficiaries to lead fulfilling and meaningful lives in their silver years.
SP Group underwrites all fund-raising costs of the SP Heartware Fund so that every dollar you donate will go fully to the social service organisations.