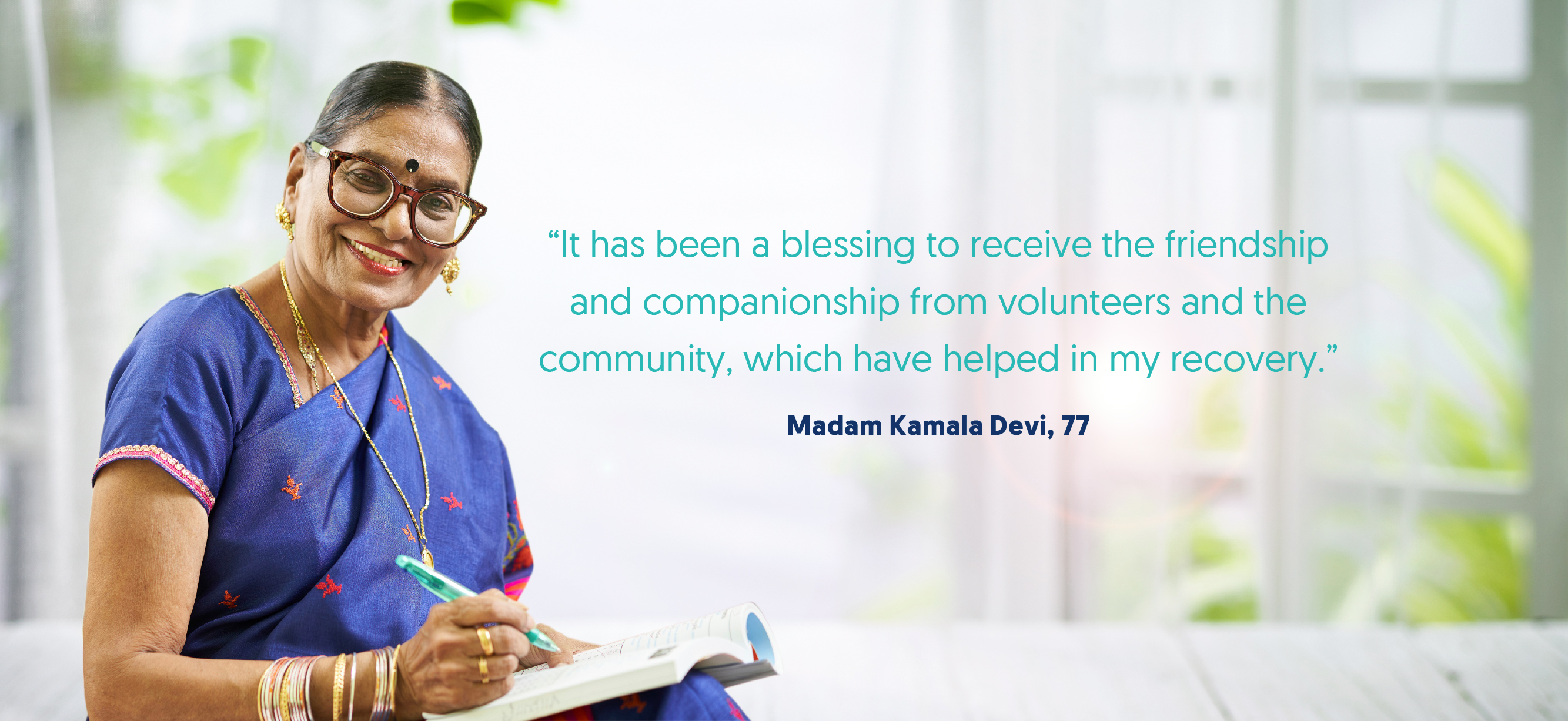 Overcoming the challenges of living alone
For Madam Kamala Devi, 77, home has been a two-room rental flat in Maude Road since 1975, which she shared with her husband. The couple, who did not have children, enjoyed many cherished moments together till the year 2000, when Madam Kamala's husband, the sole breadwinner, passed away.
She felt as if her world had caved in. Not only was she alone, she had to manage her own finances and livelihood. Through the encouragement of her grassroots adviser, Madam Kamala took up a job as a part-time tutor with her Residents' Committee, which gave her renewed purpose.
However, this joy was short-lived. One morning in March 2005, as Madam Kamala was going about her day, she tripped and fell on the kitchen floor. Unable to stand, she tried in vain to crawl to the phone. Help arrived several hours later, when Madam Kamala's brother-in-law made his way over. Mdm Kamala suffered a hip fracture, resulting in a three-month hospital stay and multiple rehabilitation sessions.
Overcoming loneliness
It was during this recovery period when Madam Kamala found respite in the services of Lions Befrienders (LB), a social service agency supported by Community Chest. LB provides befriending services to seniors who are at risk of social isolation, which can impact their health and safety.
A volunteer from LB regularly visited Madam Kamala, extending companionship, friendship, and encouragement as she regained her health. This intervention has made a big difference in Madam Kamala's recovery and quality of life. She is able to move around on her own with the aid of a walking frame.
After her discharge from hospital, LB staff and volunteers continued engaging Madam Kamala through home visits, social activities, and telephone calls to understand her needs and linking her with appropriate support services when required. Even as the COVID-19 situation worsened and social restrictions were put in place, LB continued to visit Madam Kamala every fortnight while supplementing these visits with regular telephone calls.
Paying It Forward
LB's support has inspired Madam Kamala to pay it forward. She found that her neighbour, Madam Chue faces difficulties moving around as she is mostly confined to a wheelchair. Madam Kamala checks on her daily and helps her purchase food and necessities, despite having to rely on a walking frame herself.
Over time, the two ladies have grown closer and provided companionship to each other. This has proved especially beneficial when social service activities like face-to-face befriending services had to be reduced during the pandemic.
Preventing Social Isolation
To help Madam Kamala stay engaged and socially active, she was introduced to the Mobile Access for Seniors programme, a government-led initiative for low-income seniors. However, when seniors like Madam Kamala were not familiar with using its functions, LB once again stepped in. Madam Kamala was matched with a digital volunteer at LB who visited her and taught her how to use a smartphone.
These programmes help seniors live safely on their own, manage their daily activities confidently and remain connected with others in their social circle.
Sustaining support for seniors
Since 2005, SP Group has been supporting Community Chest's social service agencies such as Lions Befrienders (LB) through the SP Heartware Fund. The Fund helps vulnerable seniors like Madam Kamala receive services, such as befriending, rehabilitation, counselling, and caregiver support, especially crucial during these challenging times.
Seniors who have limited family support may face the risk of developing conditions such as depression or anxiety. In addition, those living alone may be unable to seek immediate assistance in the event of an accident.
Supported by the SP Heartware Fund, LB reaches out to seniors at risk of social isolation and supports those who have difficulty performing daily tasks. By conducting regular home visits, LB monitors the seniors' living conditions, welfare and mental well-being. LB also manages senior activity centres across Singapore.
With the support of SP Heartware Fund, more vulnerable seniors can receive the help they need to improve their quality of life.
SP Group underwrites all fund-raising costs of the SP Heartware Fund so that every dollar you contribute will go fully to social service agencies.