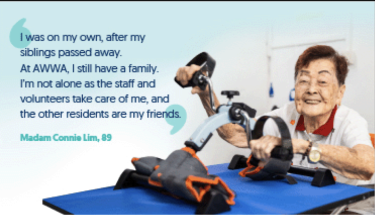 Home is where the heart is
For Madam Connie Lim, 89, life in Singapore began more than seven decades ago when she made the solo move from Malacca at the tender age of 16. Here, she developed a keen interest in cooking and soon took on a full-time job as a housekeeper for an Italian family who took her with them to New York City.
Madam Lim returned to her hometown seven years later to care for her ailing mother. When her mother's passing, Madam Lim continued her life in Singapore and worked as a cleaner. Self-reliance and independence are values that Madam Lim holds dear. However, all that changed when she suffered a fall at work, fracturing her hip and spine. Post-surgery, her world came to a standstill. For the first time, Mdm Lim felt that she could no longer support herself as she had lost her mobility. This was the lowest point in her life.
Fortunately, a medical social worker referred Madam Lim to AWWA, which not only helped her with rehabilitation and financial support, but also found her a new home, at the AWWA Senior Community Home (SCH) in 1995.
At one with the community
Like Madam Lim, residents at the AWWA Senior Community Home are without family support. There are more than 120 seniors living there, from different walks of life. Occupying three levels in an HDB rental block in Ang Mo Kio, the residents are equipped to be independent and take charge of their daily living.
Madam Lim assimilated quickly into her new home. To help Madam Lim regain her strength, nurses keep a close watch while she undergoes regular rehabilitation and physiotherapy. Staff and volunteers also encourage her to join many social activities, and she has forged strong friendships with fellow residents. She has also taken on the role of caregiver by accompanying fellow residents to medical appointments, acting as their translator. Despite her mobility constraints, she does her own grooming and household chores. She enjoys cooking for residents and staff on special occasions, serving her signature dishes like fried rice and seafood mee goreng. She is an active choir member and was even crowned Ms AWWA in 2005!
In her 27 years at the home, Madam Lim has stayed socially engaged and is an icon in the neighbourhood. During the COVID-19 pandemic, safe management measures meant that residents could not meet their friends residing on different floors. By leading singing sessions while keeping to safe distancing measures, Madam Lim was the morale cheerleader and helped lift their spirits.
Life made meaningful again
The AWWA Senior Community Home enables residents like Madam Lim to transition to a new chapter and lead independent lives, well integrated into the community around them. Many are motivated to pay it forward in big and small ways. Their support system is augmented by volunteers from the neighbourhood, schools, corporates, and other individuals.