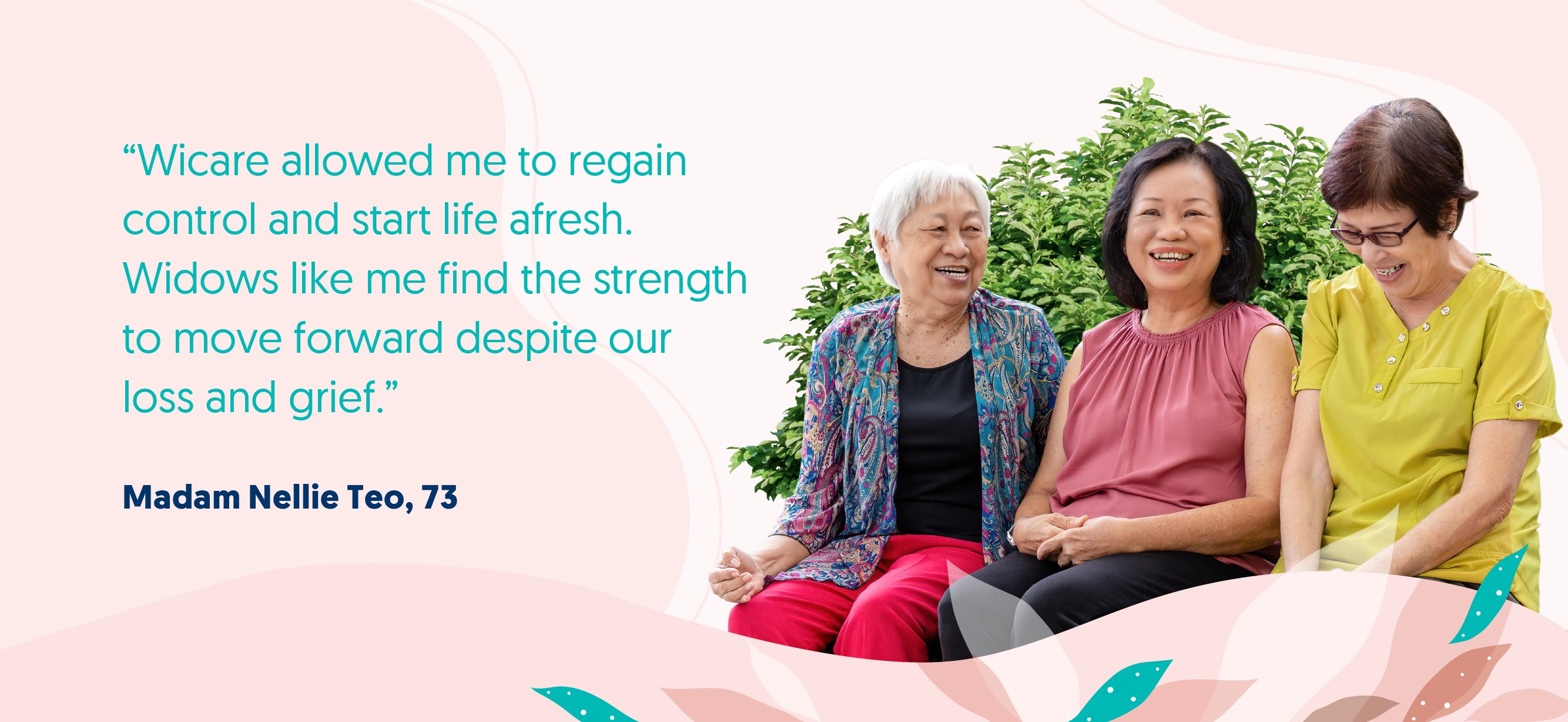 With giving comes healing
Madam Nellie Teo, aged 73, found herself in the depths of loss and hopelessness three years ago, in 2019. That was when her husband passed away, after the couple had lived for more than 40 years across the causeway in Johor Bahru. With no children or immediate family there, the Singaporean decided to return to Singapore, to start a new life alone. Within a short time, suicidal tendencies and irrational fear overtook her as she was without any support system of family or friends.
After doing a search online, she was led to Wicare Support Group, a voluntary peer-to-peer network aimed at bringing hope to widows and fatherless children.
Regaining her identity
After joining Wicare, Nellie underwent a six-month therapy programme, where she connected with other widows in a safe space where they could talk about their fears, emotions and dealing with grief. While the programme helped her to cope with her grief, she still did not know how to pass her time meaningfully.
It was not until the friendship of her mentor, Joyce, that Nellie began to take control of her life again. A widow herself, Joyce maintained daily calls with Nellie, and brought her out for tours and walks. She also arranged for Nellie to volunteer and befriend other seniors at senior activity centres. Gradually, Nellie's emotional well-being improved and she started rebuilding her social life.
Managing grief
Nellie's healing reached a tipping point when she was inspired to build a wider social circle and become a befriender herself. She stepped forward to undergo training as a befriender with Wicare. Nellie attended courses on suicide intervention, one-to-one mentoring, case management and psychosocial coaching to equip herself to help other widows.
The intervention and support Nellie received spurred her to pay it forward, by supporting widows in leading a purposeful and mission-filled life. She said, "I shared a deep love with my husband. But now, I channel my love for him to other widows, who may need that motivation to deal with their grief. It is when I give that my heart becomes full."
Nellie now organises weekly tea sessions, group support meetings, and even sessions of Rummy-O. While the occasional topic about their spouses may surface during interactions among the widows, it helps that they can relate to each other's experiences, and in turn, provide a form of support – be it a pat on the back or a shoulder to cry on.
Nellie also wanted to extend her support to widows outside of her group who tend to isolate themselves when facing grief. She persevered in contacting the widows and managed to convince them to seek help as time went by. Giving and sharing with others has helped in Nellie's own journey of healing.
Rising to inspire others
Nellie has been a beacon of inspiration to other widows. This has been made possible through the support of Wicare, which is dedicated to helping individuals like Nellie deal with grief and find closure through a myriad of programmes.